Department of Space Systems Engineering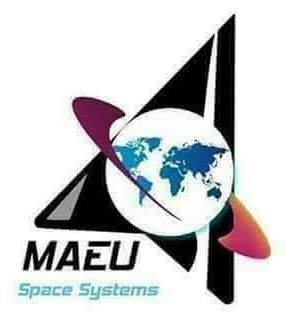 This department offers courses related to the aerospace vehicle design studies especially the satellite engineering and the application of satellite for remote sensing and communication and navigation systems.
Established
The Space Systems Engineering (SS) Department was established in 2005-2006 Academic Year of MAEU.
Degrees Offered
The degrees offered by this department are:
1. B.E (Aerospace-Space Systems Engineering)
2. M.E (Aerospace-Space Systems Engineering)
Profile of Department
| | |
| --- | --- |
| Associate Professors | 6 |
| Lecturers | 2 |
| Ph.D Degree holders | 6 |
| M.E degree holders | 2 |
| | | | | |
| --- | --- | --- | --- | --- |
| No | Name | Education | Rank | Remark |
| 1 | Dr.Aung Ko Wynn | M.E (Fluid Mechanics) China, Ph.D (Flight Vehicles Design) China | Associate Professor | Head of Department (2011-Until Now) |
| 2 | Dr.Thu Thu Aung | M.E (Aerospace)YTU,Ph.D( Aerospace) MTU | Associate Professor | |
| 3 | Dr.Kyawt Kay Khaing | M.E(Aerospace)YTU,Ph.D( Aerospace) MTU | Associate Professor | |
| 4 | Dr.Shwe Sin Oo | M.E(Aerospace)YTU,Ph.D( Aerospace)MTU | Associate Professor | |
| 5 | Dr.Ei Ei Khine(2) | M.E.,Ph.D (Mechanical Design and Theory) China | Associate Professor | |
| 6 | Dr.Ei Ei Khine(1) | M.E(Aerospace)YTU,Ph.D( Aerospace)MTU | Associate Professor | |
| 7 | U Myo Min Tun | M.E (Aerospace) YTU | Lecturer | |
| 8 | Daw Hnin Ei Lwin | M.E (Aerospace) YTU | Lecturer | |
Field of Study
Introduction to Aeronautics and Astronautics, Thermodynamics and Heat Transfer , Engineering Drawing, Material Science , Workshop Technology, Applied Electrical Engineering ,
Introduction to Spacecraft Systems, Orbital Mechanics and Dynamics, Engineering Mechanics, Aircraft Structure, Fluid Mechanics, Aerospace Material, Applied Electronic Engineering
Introduction to space environment, Spacecraft Structural Systems, Space Power and Radiation Effects, Aerodynamics, Modern Control Systems, Transducer.
Spacecraft Dynamics, Spacecraft Thermal Control, Aerospace Propulsion, Space Mission Analysis, Remote Sensing and GIS Applications, Launch Vehicles Design, Satellite Power Systems, Electronic Communication Systems.
Spacecraft Attitude Dynamics and Controls, Spacecraft Design, Aviation Legislation and Space Laws, Satellite Communication and Navigation Systems, Design Projects , Aviation Management, Aircraft Maintenance.
Research /Laboratory Facilities
Thermal Process Control Apparatus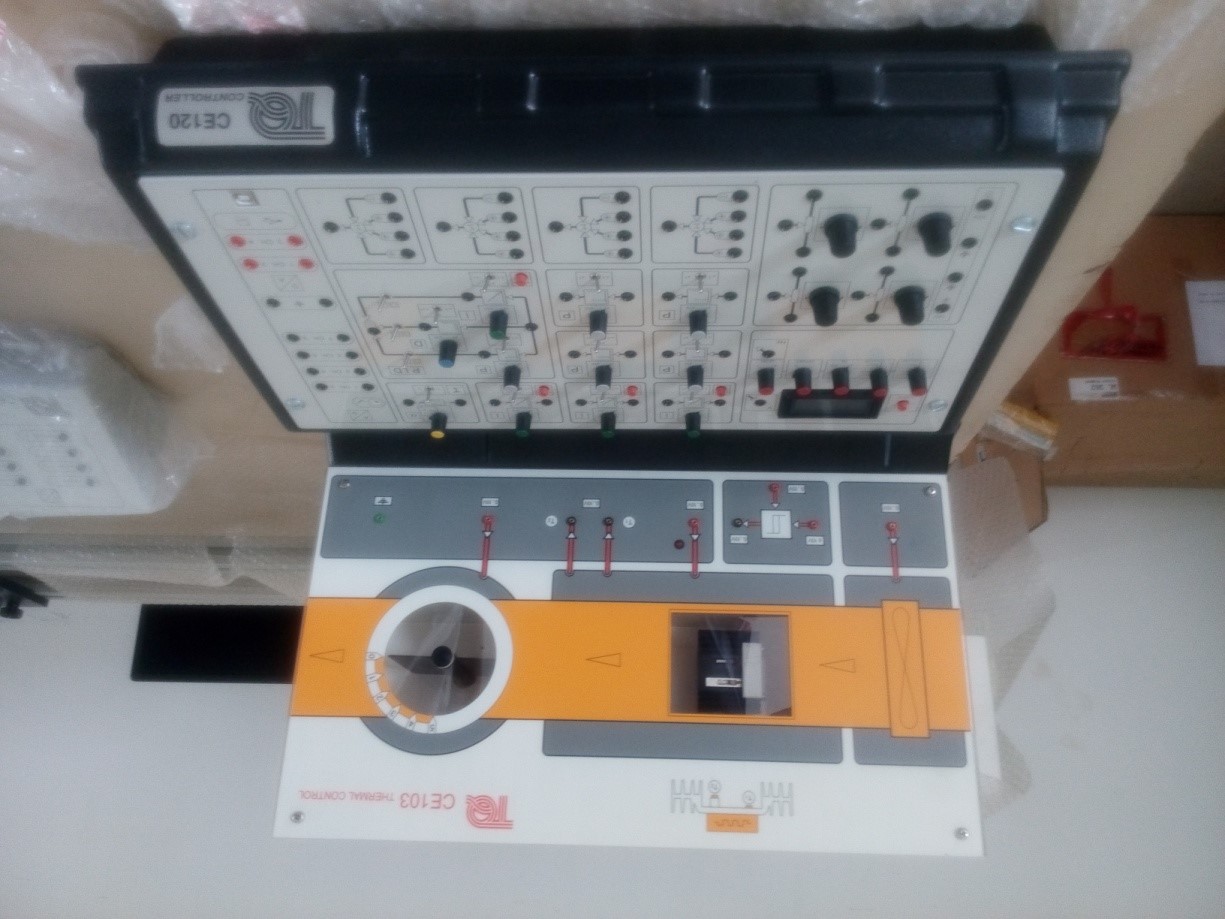 The CE103 Thermal Process Control Apparatus is one of a unique range of products designed especially for the theoretical study and practical investigation of basic and advanced control engineering principles. This includes the analysis of static and dynamic systems using analogue and or digital techniques.
The CE103 relates specially to heat and heat transfer control problems as thet would typically occur in process control industries. It may also, however be used as a practical introduction to the design, operation and application of control systems in general.
The experiments are written on the assumption that the CE103 will be monitored and controlled by the analogue facilities contained within the CE102 controller.
The experiment topics which can be investigated using the CE103 include,
1.Heat transfer
2.On/Off or relay control, experiment includes investigation of overshoot and undershoot , On and Off time ratio, variable rates of heating and cooling, together with off-set and hysteresis.
3.Proportional (P), Proportional + Integral (PI) and Proportional +Integral +Differential (PID) control. The experiments consider stability, frequency response etc.
4.Used of Feed forward control
5.Thermal inertia and variable time-constants
6.Multi-function control –up to three variables to be monitored and individually controlled.
The flexible design of the equipment enables many other analysis and control exercises to be developed by the user to suit his local requirements. This includes extended or advanced control experiments. The equipment is also ideal for the student project work.
Basic Satellite Trainers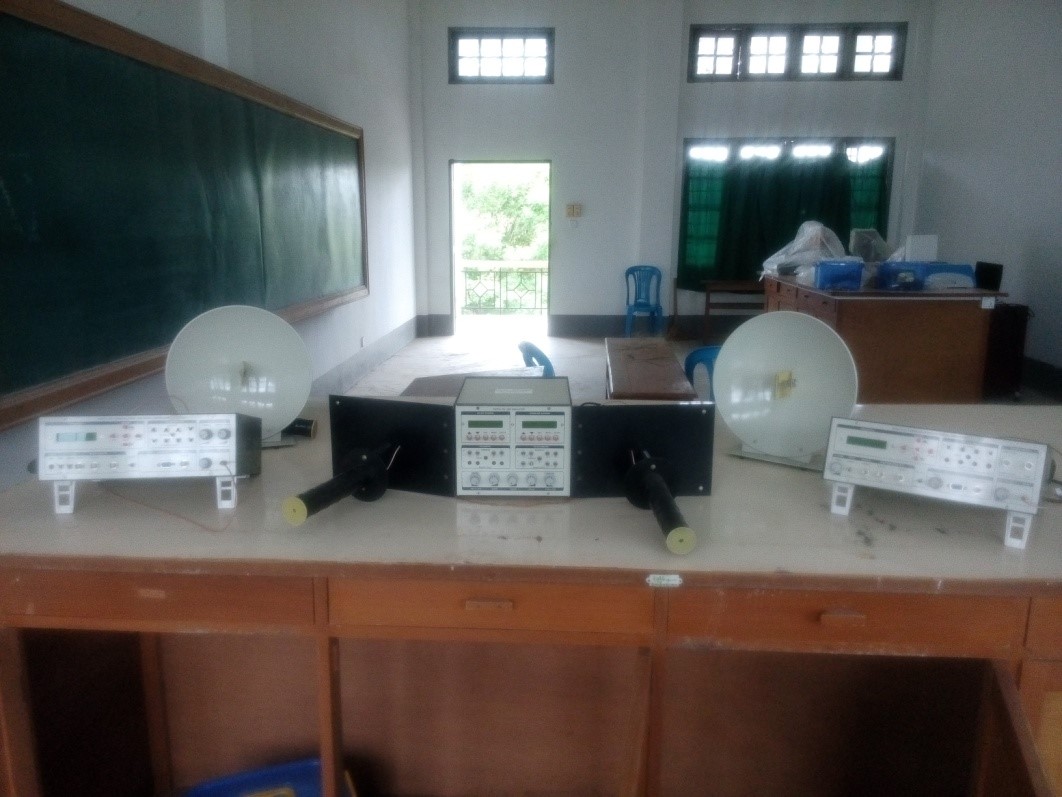 Classroom Satellite Trainer (EyasSat Nano-Satellite)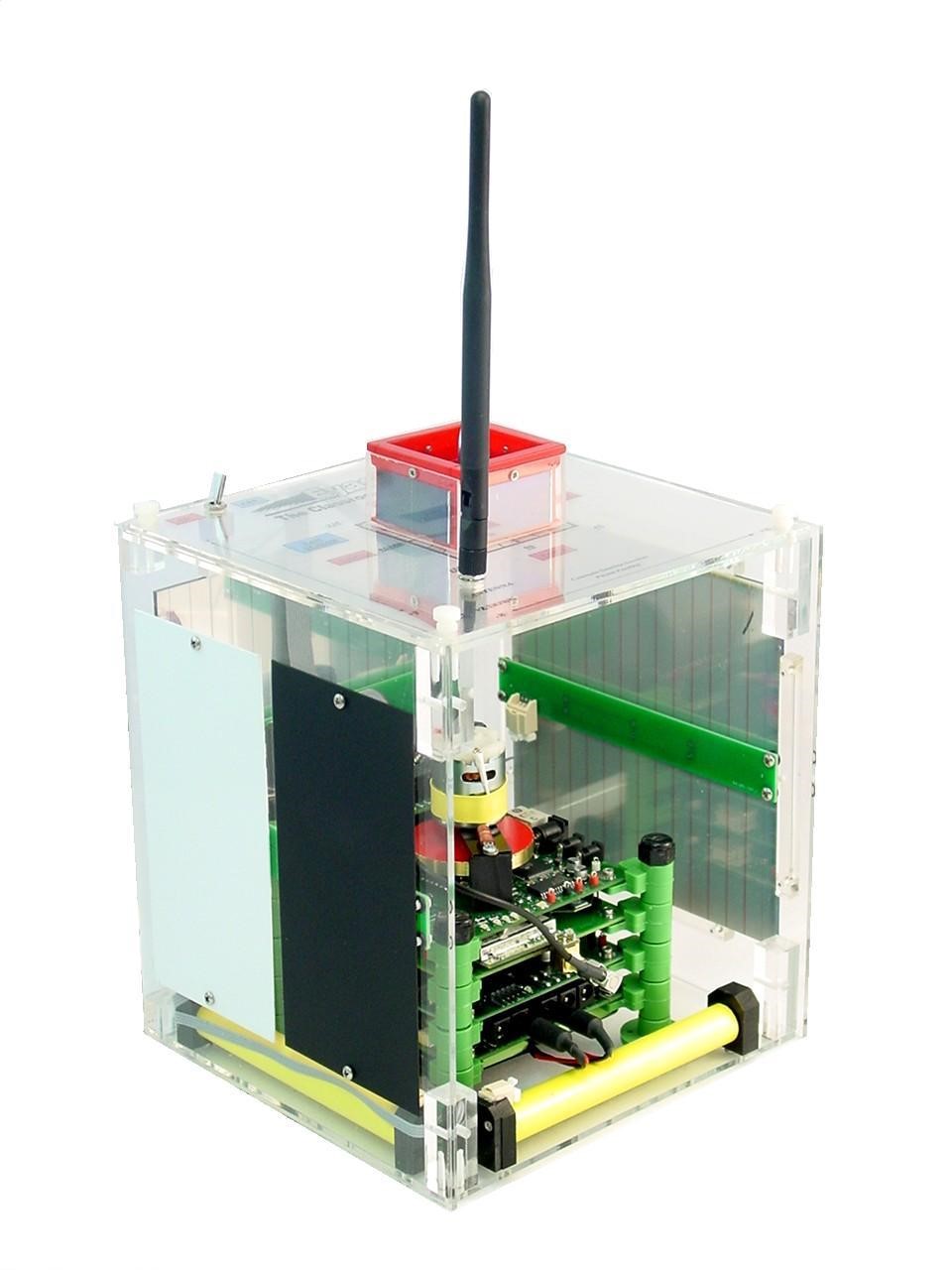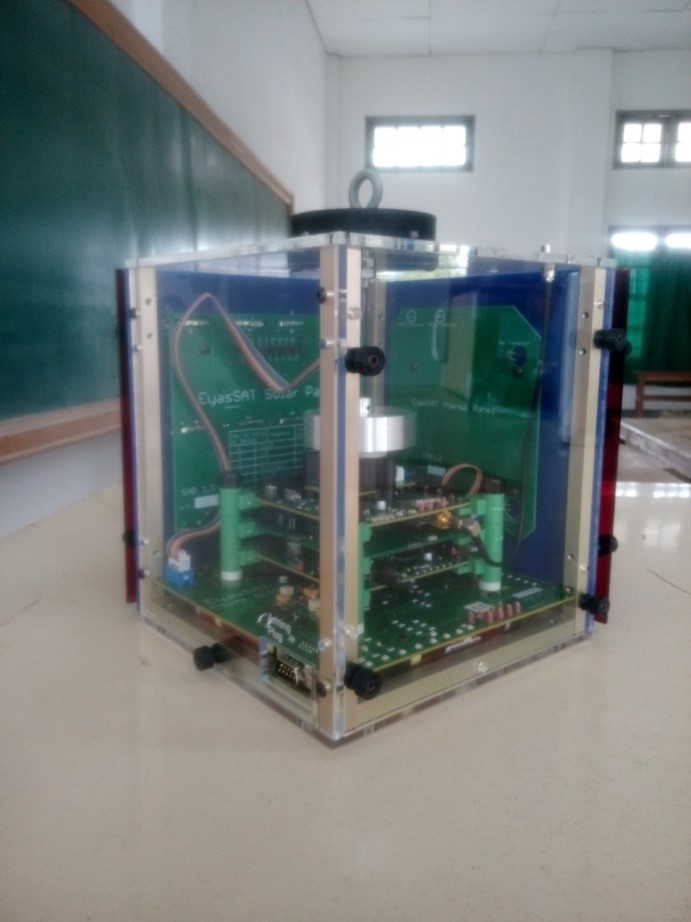 EyasSat is a nano-sat demonstrator suitable for use in the lab environment for a teaching and learning experience. It basically demonstrates the functionality of a typical satellite system built up from modules representing subsystems. Starting from the bottom, we currently have the EyasSat stack configured as follows:
Electrical Power Subsystem (EPS) Module
Data Handling Subsystem (IHU) Module
Communications (COM) Module
Experiment/Payload Module (optional)
Attitude Determination and Control (ADCS) Module
The Thermal Subsystem is located throughout
Subsystems are enclosed in the Structure
Attitude Determination and Control Systems Units
Lab Equipment: Attitude Determination and Control System Control Unit (ADCSCU) Trainer and Digital Sun Sensor
Objectives: To perform the data transmission from the ground station computer to onboard attitude determination and control unit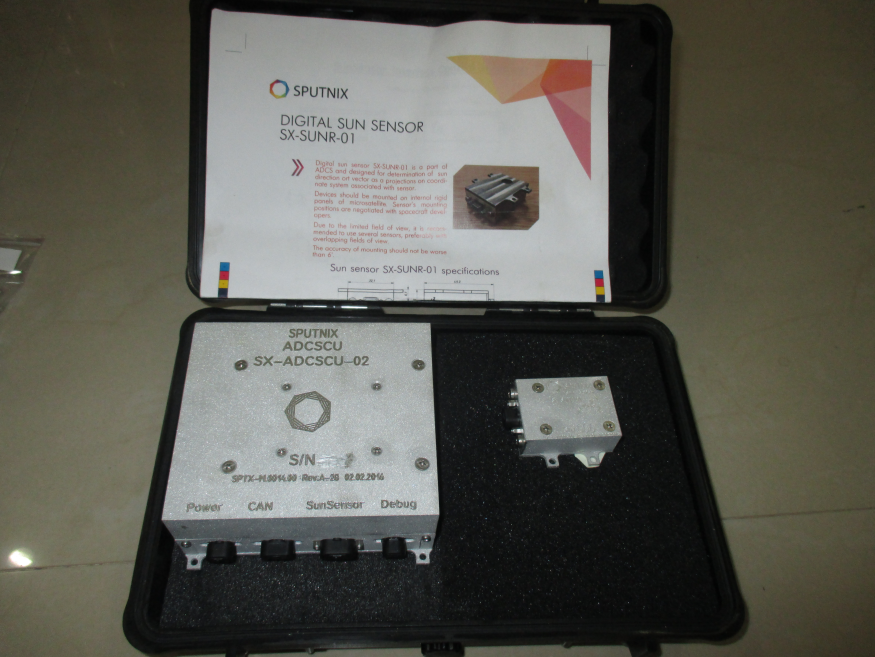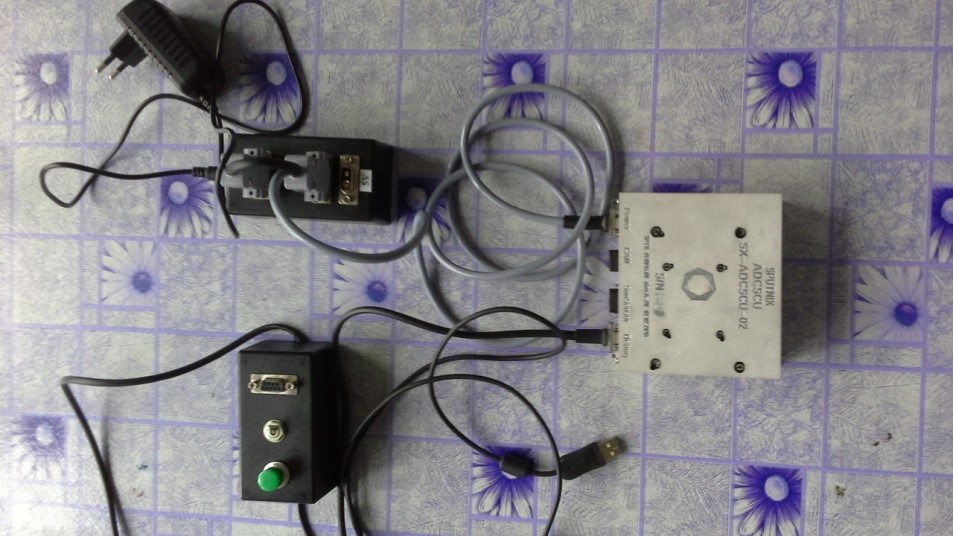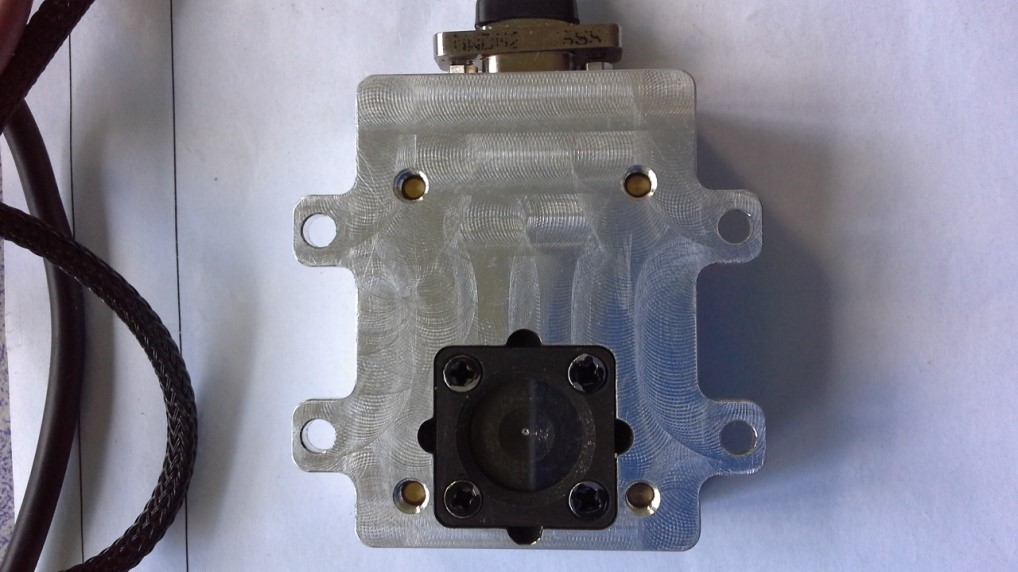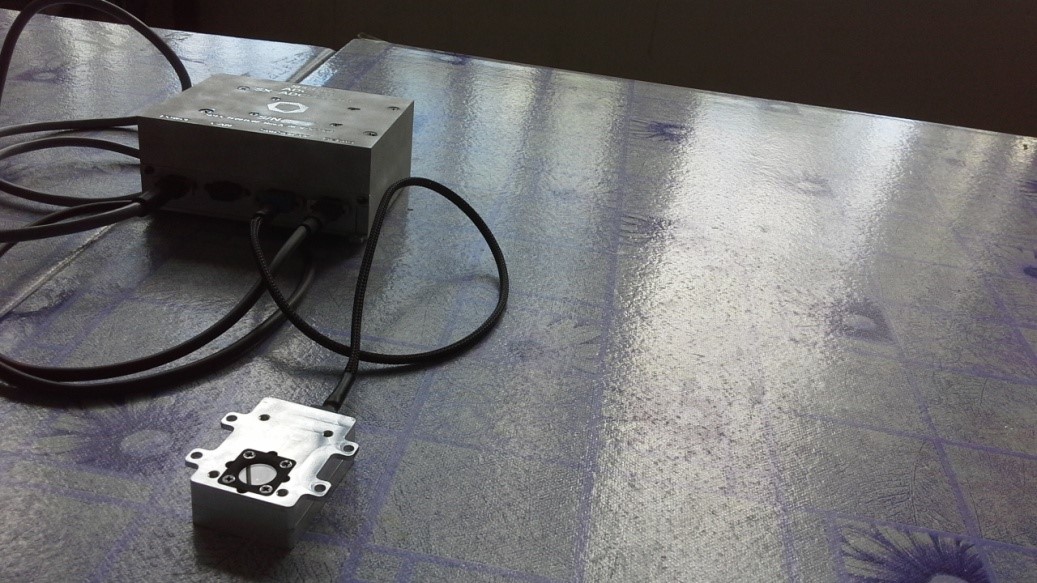 Centrifugal Fan Trainer
Fans are mechanical instruments that allow to move great gas flows as a result of the pressure increase generated. There are two basic types of air moving devices : the centrifugal fan or blower , and the axial flow fan. Generally, centrifugal fans are more suitable for lower flows at high pressures than their axial counterparts.
The centrifugal fan is a radial flow machine that produces the necessary pressure to move gas by the centrifugal force built up inside the fan casing. The gas comes out in a radial way in relation to the shaft of the fan.
Centrifugal fans are usually employed for ventilating duties.
The Computer Controlled Centrifugal Fan Teaching Trainer, "HVCC" allows the students to study the operation characteristics of a centrifugal fan,. For that purpose, the unit carries out the measurements of flow, speed, temperature, pressure and humidity.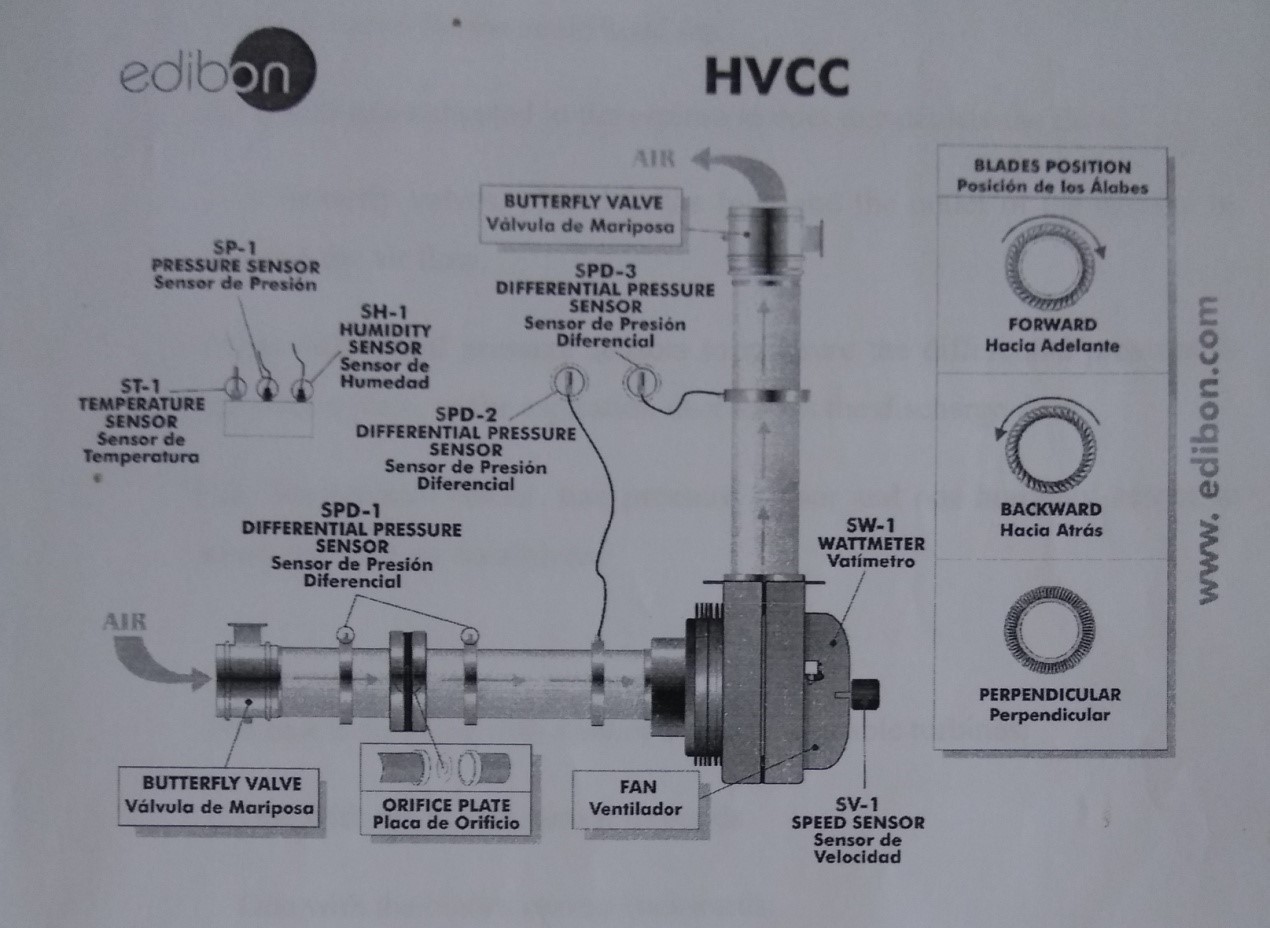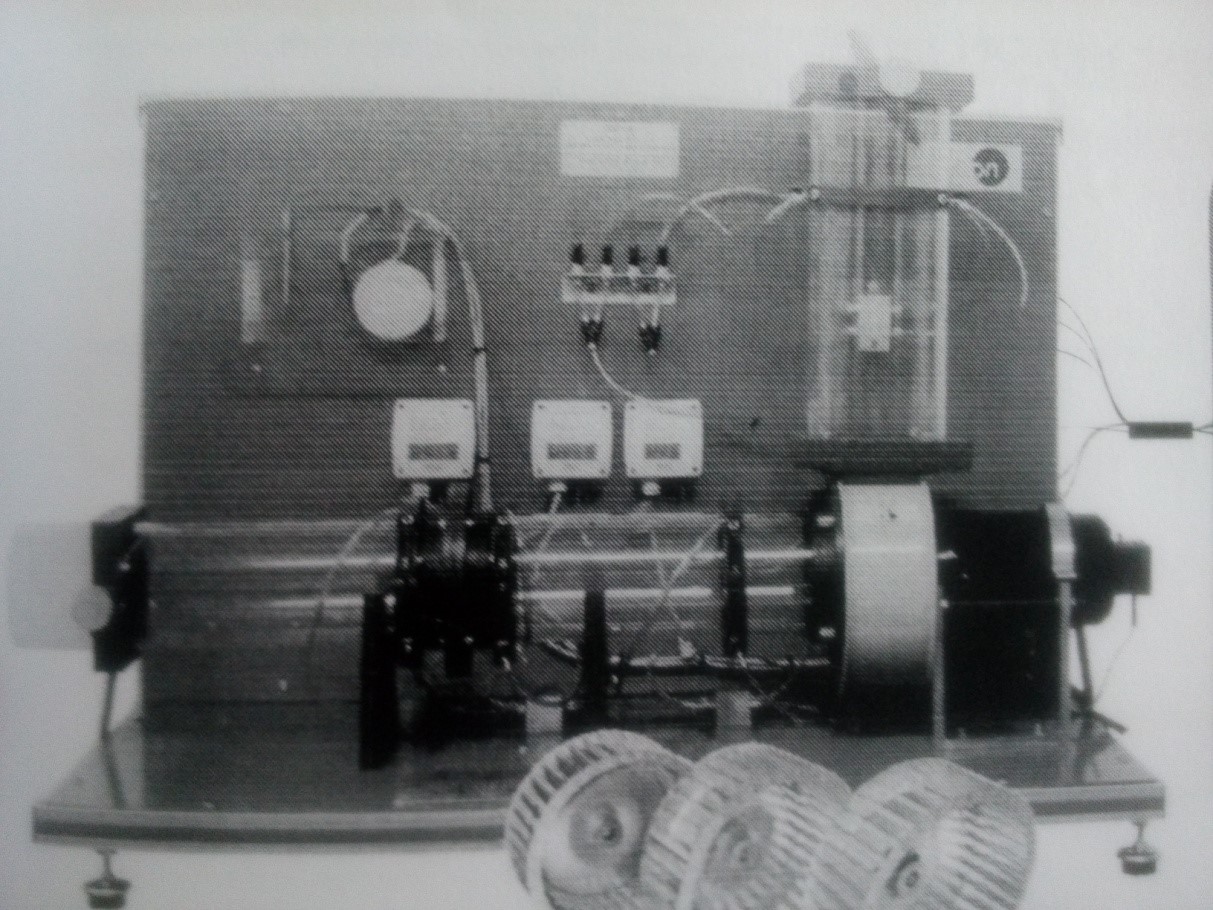 Thermal Radiation Units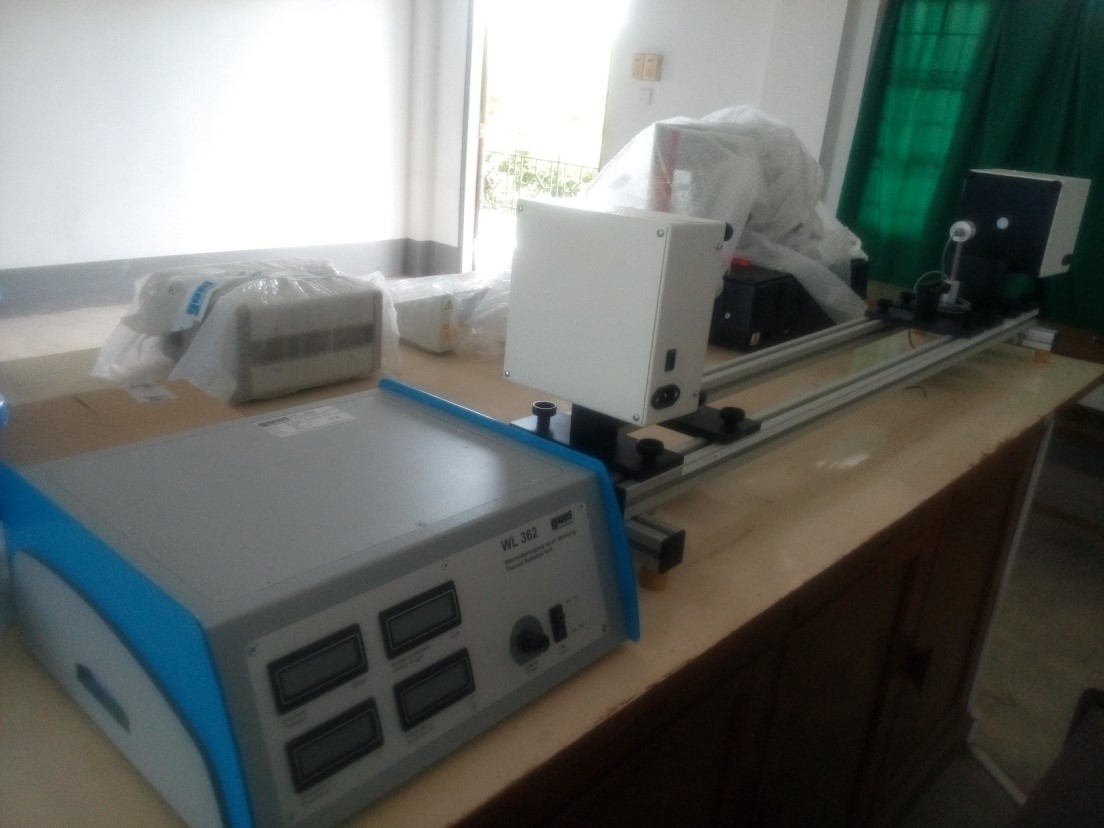 The WL362 Thermal Radiation Unit is intended for the investigation of radiation laws using thermal and optical radiation as examples.
The unit has a heat source, in the form of a black body radiator, and a thermopile that measures the intensity of the radiation. It also has a light source, a luxmeter to measure illuminance, and thermocouples to measure temperatures.
Furthermore, colour filters and an aperture are supplied for observing the effect of coloured light on the illuminance. In order to be able to study Kirchhoff's laws, various absorption plates complete with thermocouples are also provided. All the components can be easily mounted on a frame.
With the aid of the data acquisition card and software provided (only WL 362) , the values measured can be fed to a PC and evaluated.
The following topics can be addressed with the unit:
1.Lambert's Direction Law (Cosine Law)
2.Lambert's Distance Law
3.Stefan-Boltzamm's Law
4.Kirchhoff's Law(absorption, reflection, emission)
5.Investigations on the wavelengths of light
Project Activities (Student Projects)
2015-2016 Academic Year
Year
Fourth Year B.E (Space Systems)
Title
Structural Design Consideration of Nano-Satellite (Remote Sensing Satellite)
Supervisor
Dr.EiEiKhine
Project Team
1.Mg Ye Min Htay (IVSS-1)
2. Mg KyawThihaZaw (IVSS-2)
3. Mg kaungPyae Sone (IVSS-3)
4. Mg KyawKhaing Min (IVSS-4)
5. Mg ZawHtun Winn (IVSS-5)
6. Mg Lwin Bo Myatt (IVSS-6)
7. Mg Aye Chan Naing (IVSS-7)
8. Mg MyatZayar Min IVSS-8)
9. Mg MyoThiha Aung (IVSS-9)
10. Mg Nan Linn (IVSS-10)
11. Mg HtetLyann (IVSS-11)
Aim and Objectives
Disaster monitoring satellites are used for the following reasons:
(1) To observe weather and disaster conditions
(2) To transmit weather information from satellite to ground station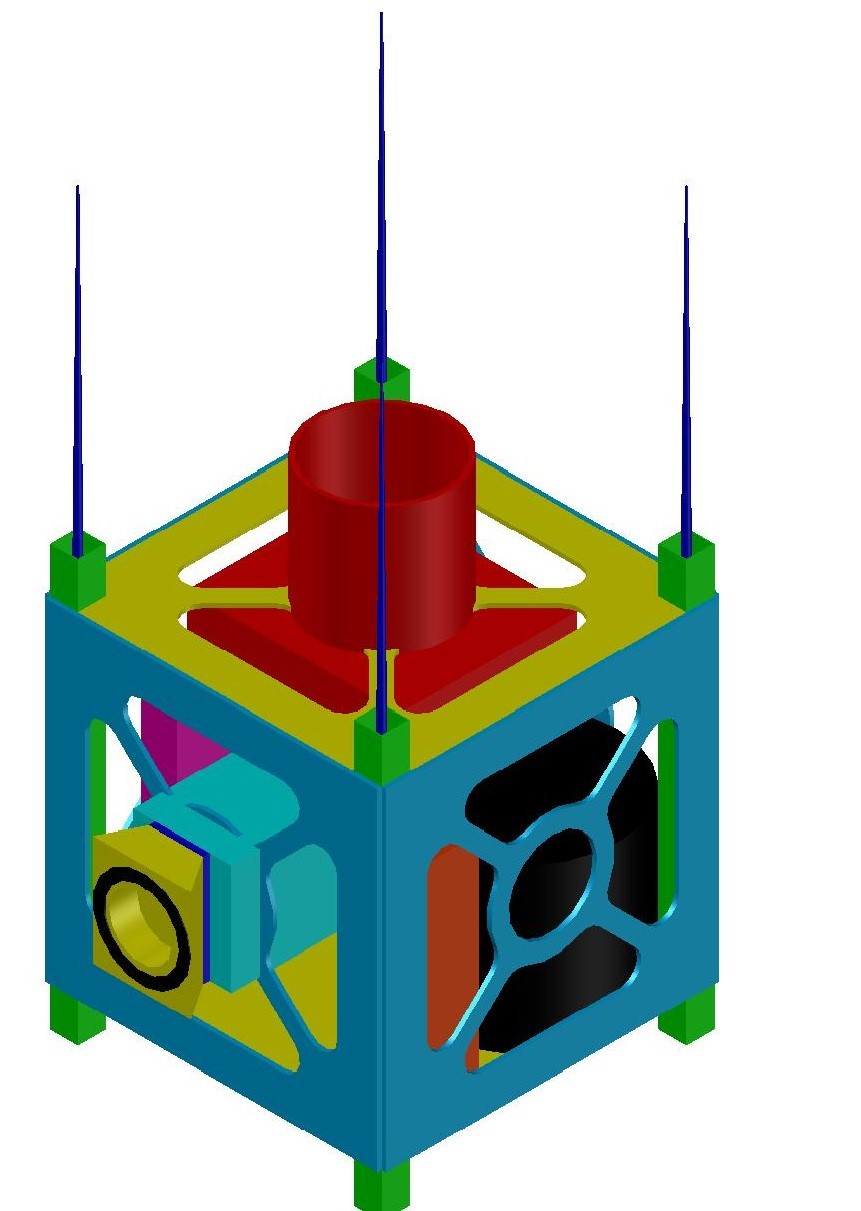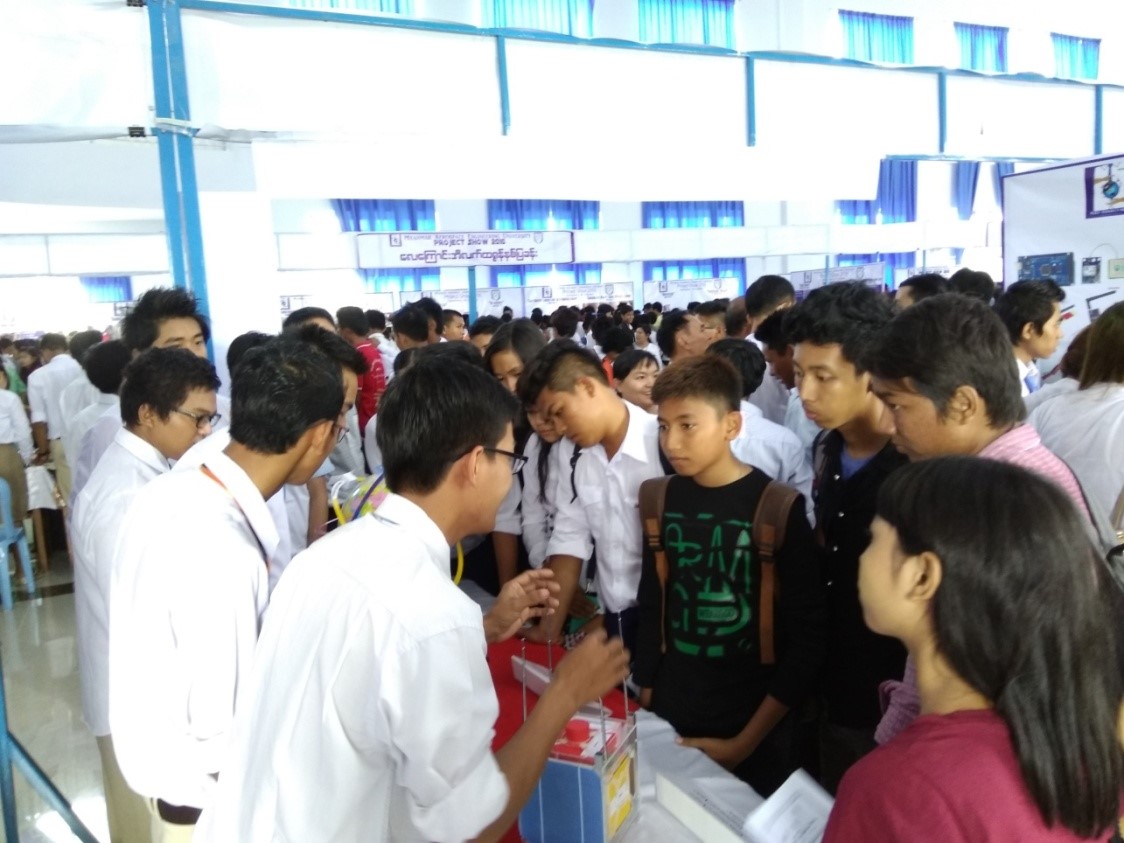 2015-2016 Academic Year
Year
Final Year B.E (Space Systems)
Title
MAEU 001 Can-Satellite Design
Supervisor
Dr.Aung Ko Wynn
Project Team
Final Year (Space Systems) Students (2015-2016)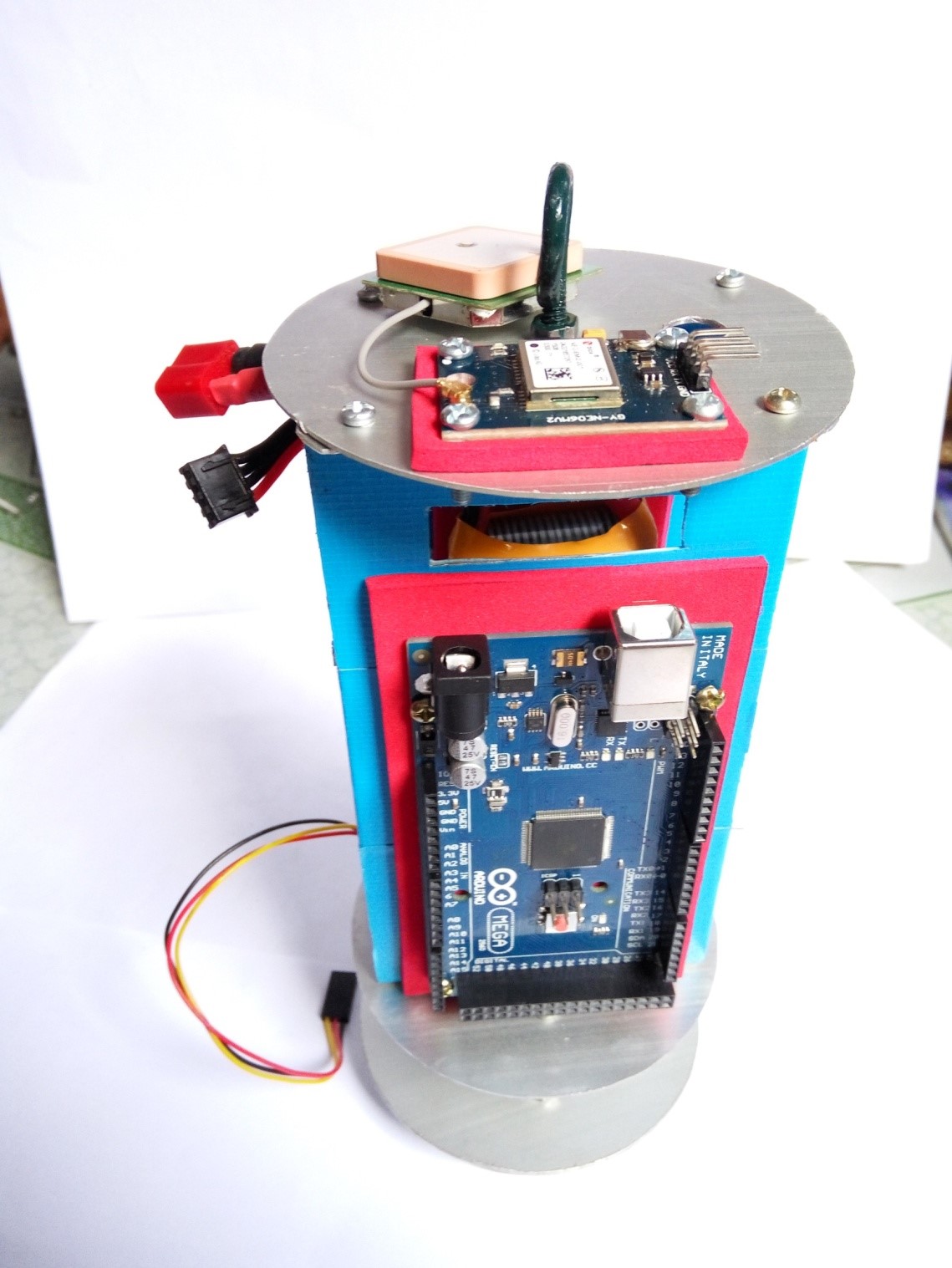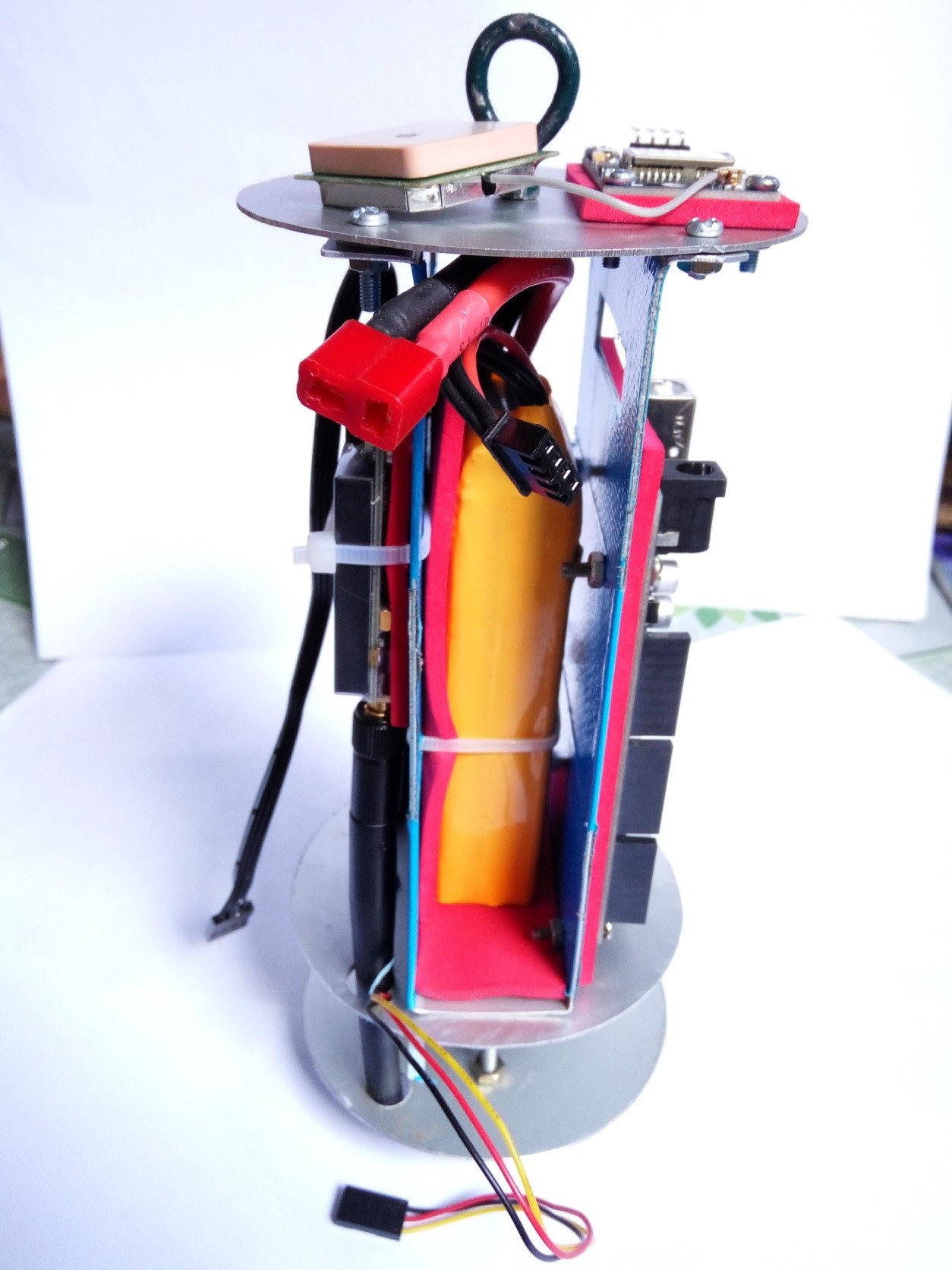 Abstract
The Main purpose of this project is to apply the concept of spacecraft design and to get experience in practical construction of the design through this work, the design of MAEU 001 Can Satellite. The minimal volume of the Can Sat will be fit all of the subsystems including power, sensors and communication systems. The structural subsystem of the Can Sat will provide all components to have more enough space. Communication and Data Handling system in Can Sat have a processing unit that will handle all the real time operations of the Can Sat and provide data interfaces to all other systems. Its main purpose is transmitting housekeeping and mission data from Can Sat to ground station. In order to perform the final operation safety, the recovery system which includes a parachute giving a constant descent rate of the Can Sat , will be provided to withstand the impact load.
Aim and Objectives
The main aim of the project is to initiate and promote the practical application of space systems engineering in Myanmar through designing, fabrication, construction and making test operation of a Can Satellite in student project level.
The objectives of this project are as follows:
1.To learn the basic of satellite design, fabrication and operation
2.To build awareness on miniature satellites, their subsystem design and practical experience
3.To acquire atmospheric data such as temperature, atmospheric pressure
4.To demonstrate the ability of Myanmar Aerospace Engineering University to design, fabricate, integrate, test and operate a Can Satellite of approximately 1 kg in mass.
5.To have a practical knowledge of space engineering
6.To promote and sustain research and education focused on small satellites and related technologies
7.To arrange the structure that can provide all components neatly
8.To identify the aerial video recording for geodetic survey
9.To get knowledge on the communication technology used in miniaturized satellite
10.To define the descent velocity by designing the parachute
Mission Objectives
1.To collect and transmit data
2.To measure the atmospheric temperature and pressure
3.To detect the whole path of the Can Sat with latitude and longitude including the place where it landed or dropped
4.To capture images and record a video during landing and then send data to the ground station
5.To show that a low cost design can implement the specific mission
6.To create prototype data telemetry system and signal design for futures implementation and improvement
Mission Requirements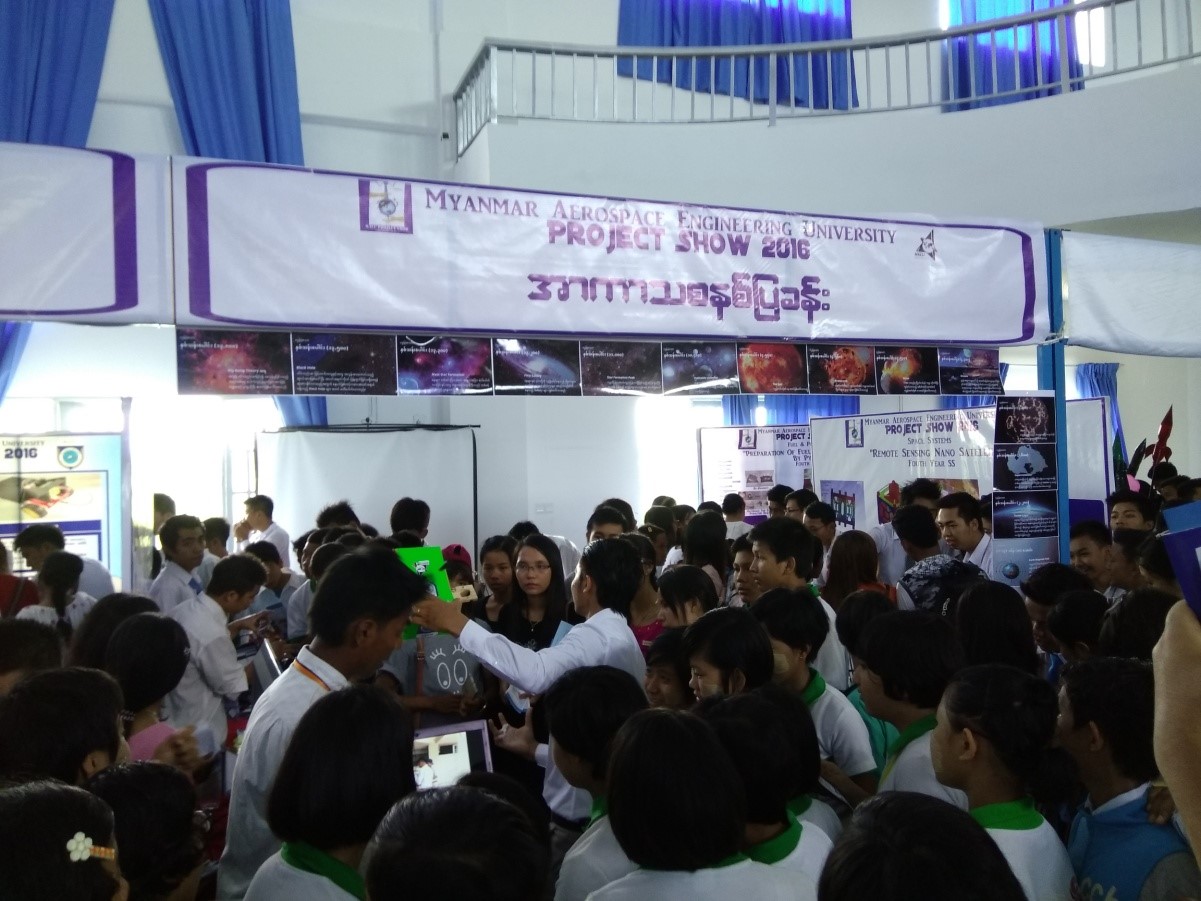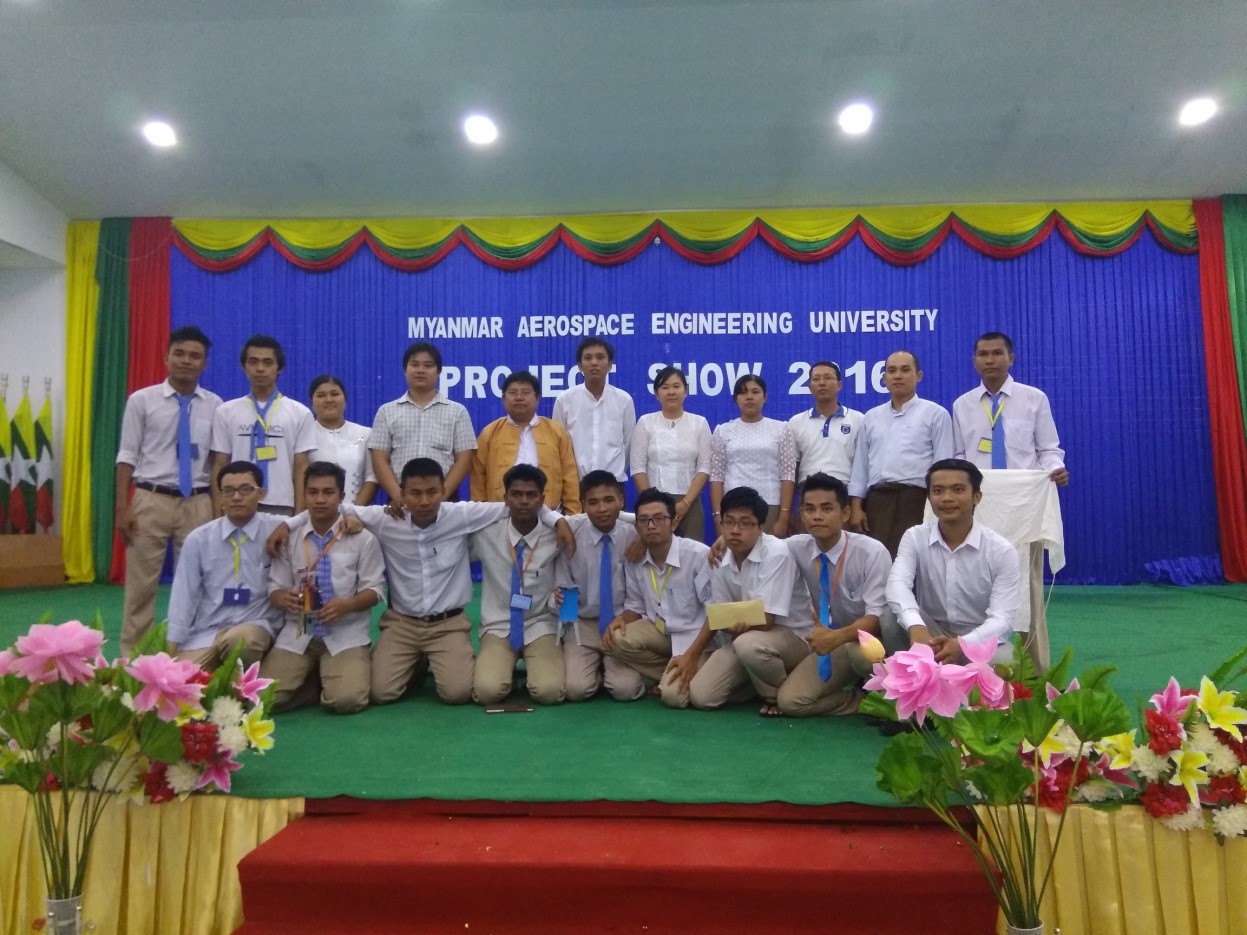 Staff Profiles
Dr.Aung Ko Wynn
Professor (Head)
Academic Record (Degrees)
B.E (Aeronautical Engineering) Yangon Technological University,
M.E (Fluid Mechanics) BeiHang University (BUAA), China,
Ph.D(Flight Vehicles Design) BeiHang University (BUAA), China,
Can-Satellite Hands-on Experience in CLTP-7 (Hokkaido University, Japan).
Research Interest (Fields of Research)
1. All Aspect of Satellite Designs.
2. Computational Fluid Dynamics
Post/Current Projects
iCan-Sat Version 6 in CLTP-7
i-CanSat is an affordable educational satellite kit , designed by Prof.Hironori SAHARA of Tokyo Metropolitan University. It is designed to provide training about basic satellite engineering and technology. The miniature satellite includes all the subsystems that are similar to the real satellite. The learner can acquire basic satellite engineering using iCanSat which includes knowledge about system engineering, on-board computer (OBC) , sensors , actuators, assembly, integration and testing (AIT) and project management.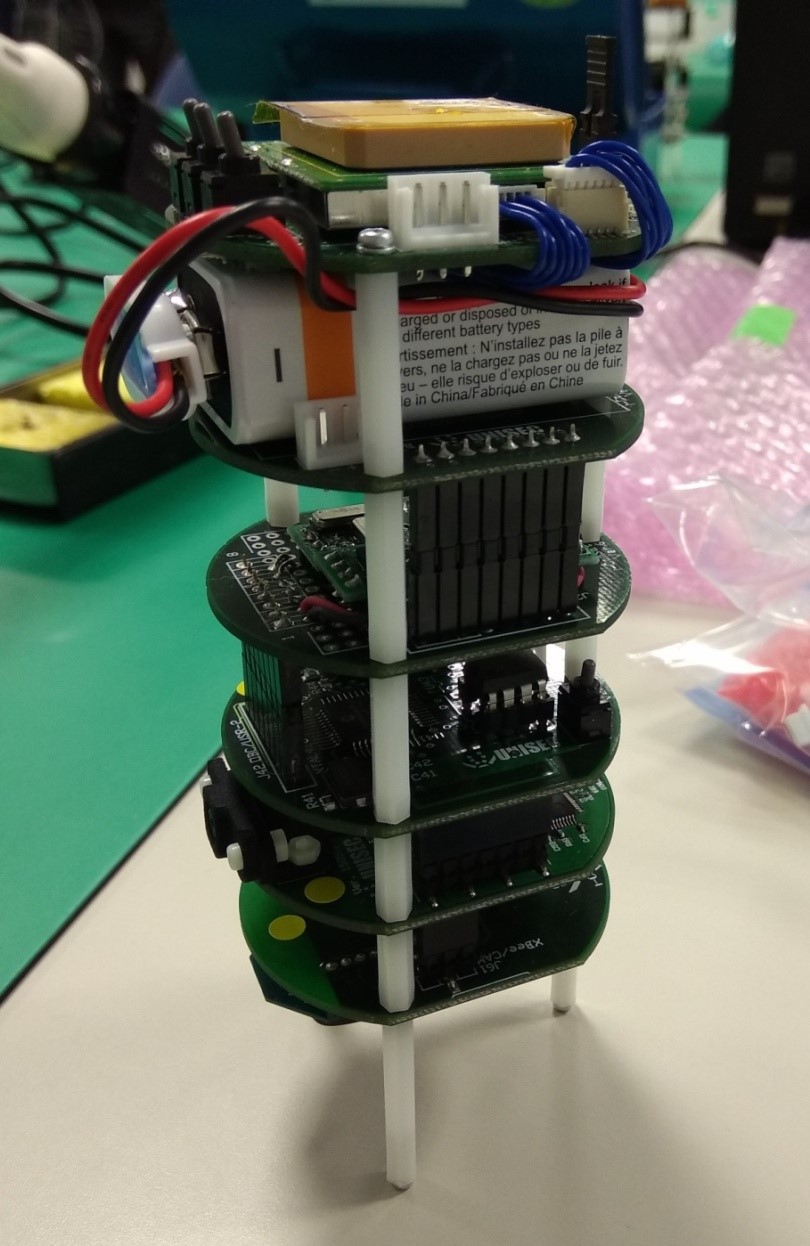 Configuration Overview
i-CanSat Version 6 consists of partially cut off circular six printed circuits boards(PCBs). From to bottom, they are as follows:
GPS board for installation of GPS, switches, and indicators
PWR board for installation of on-board battery
USR board for installation of optional modules, e.g., accelerometers, gyroscopes, pressure transducers,..etc
OBC board fro installation on-board computer and memory
CAM board for installation a camera called CANCAM and
XBee board for installation a XBee communication module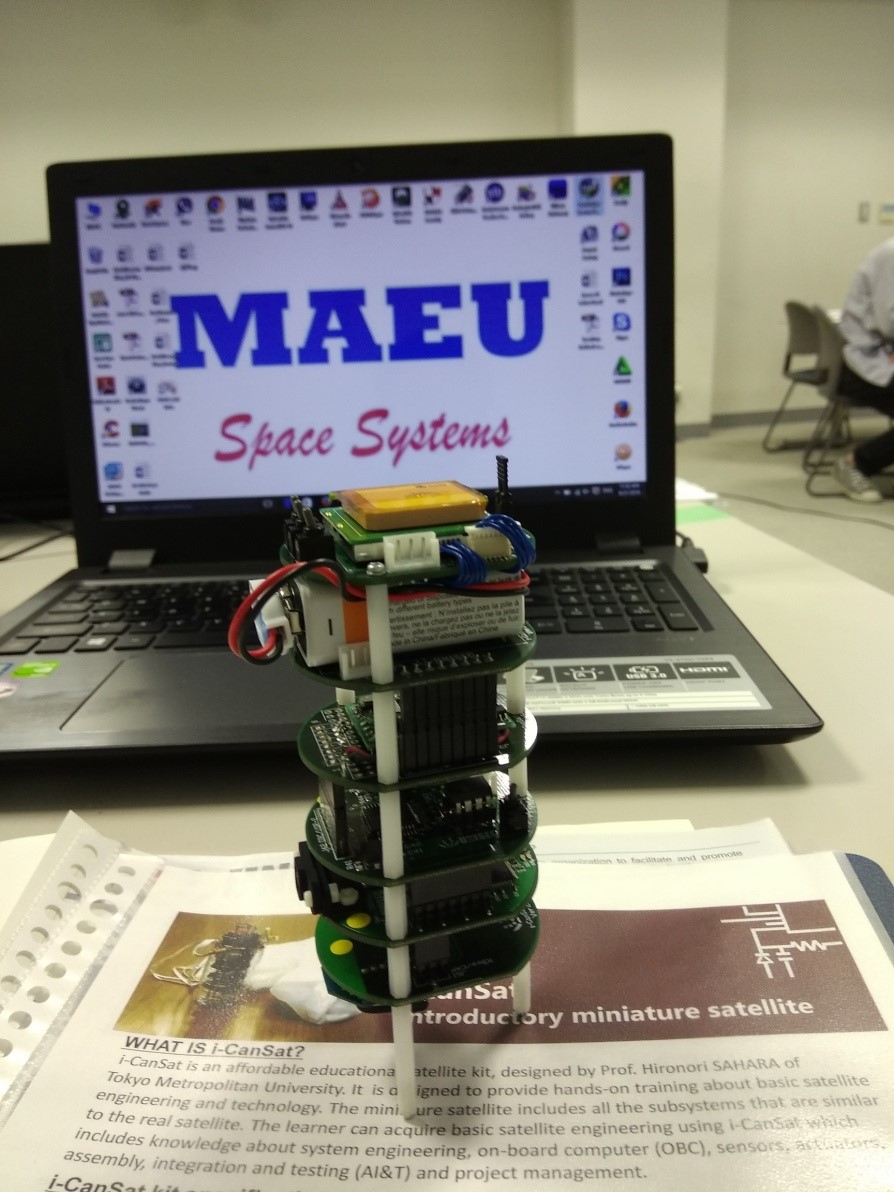 Structural Vibration Test
Random vibration Test
Sine Vibration Test
Shock Vibration Test
Thermal Cycle Test
| | | | |
| --- | --- | --- | --- |
| Title | Type | Publication | Country |
| Analysis on Aerodynamic Performance of Finite Swept Wing with Glaze Ice Accretions | Journal | Journal of Computer Aided Drfting,Design and Manufacturing CADDM, Vol.20,No.2,Sum No.38,CADDM,Dec 2010,CLC No.V224,Article ID:1003-4951(2010)02-0015-08,Page 15-22. | China |
| Numerical Study of Aerodynamic Performance of a Aircraft Swept Wing with Leading Edge Ice Accretions | International Conference | 2nd International Conference on Mechanical and Electronic Engineering (ICMEE 2010), August 1-3, IEEE 2nd ICMEE 2010 Conference Proceeding, Vol.1, Page 332-336. | Tokyo,Japan |
| Computation of Aerodynamic Performance about a Swept Wing with simulated Rime Ice Accretion | International Conference | International Conference on Mechanical and Electrical Technology (ICMET 2010), September 10-12, IEEE ICMET 2010 Proceeding, page 50-54. | Singapore |
| Analysis on Aerodynamic Performance of Complex Ice Airfoil with Hybrid Grid | AIAA conference | Collection of Technical Paper, 25th AIAA Applied Aerodynamic Conference,Vol.2, 2007 June 25-28, Page 1425-1431 | USA |
| Application of Hybrid Grid to Analyzing Complex Iced Airfoil Aerodynamic Performance | Journal | ACTA AERONAUTICA ET ASTRONAUTICA SINICA,Vol.28, August 2007 (Chinese Version) | China |
| Analysis on Aerodynamic Performance of Complex Iced Airfoils | Journal | Journal of Aerospace Power, Vol.22, No.6,June 2007 (Chinese Version) | China |
| | |
| --- | --- |
| Name | Dr.Thu Thu Aung |
| Academic Record | B.E(Aeronautical Engineering) YTU,M.E(Aerospace) YTU,Ph.D (Aerospace Engineering, MTU) |
| Post | Professor |
| Research Interest: | Spacecraft Attitude Dynamics and Control |
| Publications | Paper Title: Pressure Distribution on Symmetric Airfoil, International Conference on Science and Engineering (ICSE) Myanmar 2010 |
| Publisher | ICSE Myanmar (2010) Journal |
| | |
| --- | --- |
| Name: | Dr. Kyawt Kay Khaing |
| Post | Professor |
| Academic Record | B.E(Aeronautical Engineering) YTU,M.E(Aerospace) YTU,Ph.D (Aerospace Engineering, MTU) |
| Research Interest : | Space Mission Analysis and Design |
| Publications | Paper Title: Blade Design of Small Self-starting Vertical Axis Wind Turbine, (ICSE) Myanmar 2010 Publisher: ICSE Myanmar (2010) Journal |
| | |
| --- | --- |
| Name: | Dr. Shwe Sin Oo |
| Post | Professor |
| Academic Record | B.E(Aeronautical Engineering) YTU,M.E(Aerospace) YTU,Ph.D (Aerospace Engineering, MTU) |
| Research Interest : | Spacecraft Thermal Control |
| Publications | Paper Title: Evaluation of Aerodynamic Characteristics for Thin Airfoil with Parabolic Camber, International Conference on Science and Engineering (ICSE) Myanmar 2010 |
| Publisher | ICSE Myanmar (2010) Journal |
| | |
| --- | --- |
| Name | Dr. EiEiKhine |
| Post | Professor |
| Academic Record (Degrees) | B.E (Aeronautical Engineering- YTU),M.E (Mechanical design and theory – Beihang University (China)), Ph.D (Mechanical design and theory – Beihang University (China)) |
| Research Interest (Fields of Research) | Structural design |
| Post/ Current Projects | |
| Publications | Title "Investigation of Static Failure for Cemented Carbide Cylindrical End Mill" 2010 International Conference on Manufacturing Science and Technology (ICMST 2010), 26-28, November, 2010; Kuala Lumpur, Malaysia |
| | |
| --- | --- |
| Name | Dr. Ei Ei Khaing |
| Post | Professor |
| Academic Record | B.E(Aeronautical Engineering) YTU,M.E(Aerospace) YTU,Ph.D (Aerospace Engineering, MTU) |
| Research Interest | Aerospace Propulsion |
| Publications | Non |
| Name | U Myo Minn Tun |
| Post | Lecturer |
| Academic Record | B.E(Aeronautical Engineering) YTU, M.E(Aerospace) YTU |
| Research Interest: | - |
| Publications | Non |
| | |
| --- | --- |
| Name | Daw Hnin Ei Lwin |
| Post | Lecturer |
| Academic Record | B.E(Aeronautical Engineering) YTU, M.E(Aerospace) YTU |
| Research Interest: | Fluid Dynamics, Space Solar Power |
| Current Projects | 1U_CubeSat Solar panel deployment |
| Publications | Thermal Strength Analysis of Flow Field Properties over A Blunt Body at High Supersonic Speed, ICSE 2010, Yangon |
Curriculum for B.E. (Aerospace – Space Systems Engineering)